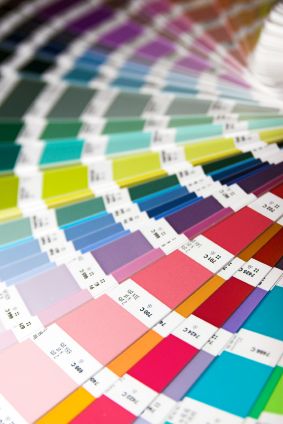 Frequently Asked Questions
Answers to common questions our clients ask. Start by selecting one of the links below.
Do you have a question that's not in our list? Call us at (913) 492-1500 or contact us online. We would love to talk with you about your next print project!
Are there price breaks for ordering larger quantities of documents?

We do offer price breaks on higher volume jobs. Please call us at (913) 492-1500 to speak to our sales team.

At what resolution should I save my photos and graphics?

Picture resolution should be set to 300 dpi at the final use size.

Pictures and graphics pulled from the internet are often low resolution, typically 72 dpi. You should avoid using these low resolution graphics, as they will appear pixilated and blocky when printed.

Also note that you should save all photos in CMYK mode, not RGB mode when possible. Images saved in RGB mode may not print properly. If you are unable to save your image in CYMK mode, please contact us for assistance.

How do I get digital files to 2 Friends Printing?

The easiest way to submit files is to use our SEND A FILE form. You can also provide your digital files to us on a flash drive, via email, or by ftp. If the file is larger than 5MB, then you should upload the files via our online form. Please call us at (913) 492-1500 if you need assistance.

How do I get an estimate from you?

How do I make a PDF file?

There are many variables involved in creating PDF files. If you are unfamiliar with creating a print ready PDF please call us for assistance. We would be happy to assist you.

How long does it take for you to complete my order?

Production times vary widely depending on individual job specifications. Some jobs can be produced in minutes while other jobs may take days. 95% of our jobs are completed and shipped within 1-3 business days or less after you approve your proof. Tight deadlines? We would love to discuss your project and deadlines to see how we can help you.

How long until I receive a proof of my job?

Digital proofs will typically be sent to you for approval within 1 business day of receiving your electronic files.

Is white considered a printing color?

Not typically. Because white is the default color of paper, it is simply recognized as the absence of any ink. However, when using colored paper, white ink may be used if any text or graphic requires it.

Should I compress my files using programs like WinZip and StuffIt?If you use our online file upload form, your files will be compressed automatically. If you're sending your files via E-mail or FTP, then compressing large files before sending is a great idea. This allows your document and all supporting files and fonts to be included into one easy to handle file while reducing overall file size.

Tips on how to save your design files

Most applications allow you to save as, or export to, a PDF file. PDF's include all the necessary fonts and graphics needed for printing your file making them the preferred file format.

What do I need to provide for variable data projects?

We work with many types of data files, but CSV files are the safest bet. These are data files that have commas separating each field, and returns separating each line of data. To save time and hassle, make sure your data is properly formatted with each piece of data in separate fields.

Complex projects may require other files, like image files or additional data files. If you are unsure of what may be required for a particular variable project, give us a call and we will be happy to assist you.

What file format should I use when submitting my electronic document for printing?

PDF (Portable Document Format) is the most common and preferred file format for submitting digital documents. With the installation of a PDF print driver on your computer, virtually any program can generate a PDF file suitable for printing. Both commercial and free PDF print drivers are available online for download from different sources.

What format does 2 Friends Printing want my file to be in?

2 Friends Printing can work with files in several formats. The order of preference is PDF, then Native.

What is Adobe PDF?

It is the industry standard PDL (page description language) invented by Adobe. PDF can print any kind of document including text, graphics, images and color. It is compatible with all computers and software, and the format DPS prefers.

What is a "proof"?

A proof is a way of ensuring that all of your text is accurate and that everything is positioned according to your requirements. Typically, we will produce a proof which will be sent to you online or printed on paper which can be viewed in our store or delivered to you in person.

On multiple color jobs, we can produce a color proof on our color output device to show how the different colors will appear.

What is a PDL (Page Description Language)?

A Page Description Language renders the content of a document in a form akin to a mathematical representation of all the lines, circles and characters it contains. PDL's include Hewlett Packard's Printer Control Language (PCL), HP's Graphics Language (HP-GL), Adobe's PostScript (PS), and Portable Document Format (PDF).

What is different when saving Color Files to PostScript?

The only difference is the destination printer driver used to make the file. When Digital Printing Services comes to your site to set up the printer drivers, we will address the color file issues.

What is the Pantone Matching System?

The Pantone Matching System (PMS) is a color reproduction standard in which colors all across the spectrum are each identified by a unique, independent number. The use of PMS allows us to precisely match colors and maintain color consistency throughout the printing process.

What other file formats can I send you?

Our preferred file format is PDF which is independent of the native program format. We can also work with any Mac or PC version of Adobe Illustrator, Photoshop and Indesign, as well as Microsoft Word and Excel. Please contact us regarding other programs not listed here. When submitting native file formats special consideration is required for fonts and graphics used in the files.

What type of products and services do you provide?

We are a full service shop and offer a wide range of products and services that include offset, digital and large format printing. To see a full listing and description of what we can offer you, please see the Products and Services area in the Customer Service Section of our website.

What types of Shipping Services do you offer?

We use UPS as our standard shipping services for locations outside of the Kansas City Metro area. In the Kansas City Metro area, DPS will personally deliver completed jobs.

What types of media do you accept?

We can take your files on CD, flash drives, portable drives and via email and ftp.

What types of paper are available for me to print on?

We can help you find just the right paper for your project. Please call our sales team for information on the types, sizes and colors of paper available for your printing needs.

Why do the printed colors look different from the colors on my screen?

In short, printers and monitors produce colors in very different ways.

Monitors use the RGB (red, green, blue) color model, which usually supports a wider spectrum of colors. Printers use the CMYK (cyan, magenta, yellow, black) color model, which can reproduce most—but not all—of the colors in the RGB color model. Depending on the equipment used, CMYK generally matches 85–90% of the colors in the RGB model.

When a color is selected from the RGB model that is out of the range of the CMYK model, the application chooses what it thinks is the closest color that will match. Programs like Adobe Photoshop will allow you to choose which color will be replaced. Others may not.

When color is critical it is best to allow extra time test prints and color adjustments.

Will the colors on my computer monitor match what is printed?

Due to our printers being toner based and not ink based, the ability to match and exact PMS color is limited. However, we are able to match most colors that are presented to us for print.

Will you match a sample I print out on my own printer, or a previously printed sample?

Due to varying technologies used in printing, there is no guarantee that your completed document will match your printed sample. This is due mainly to the varying results from different output devices such as inkjet, bubblejet and laser printers and offset press prints. Even from one commercial printing firm to another, there can be wide differences in results. In an effort to match the color you are looking for, we require that a proof be approved of color printed documents before printing the complete job.